Electronic Key Manager EKM single-user version
Software for key management
Only local EKM client, no network support
Access to key database and key database export/import in csv format
Forms and databases prepared using the demo version or light version can continue to be used with the full version
Includes additional documentation EKM (CRC definition) – order no. 093653 on CD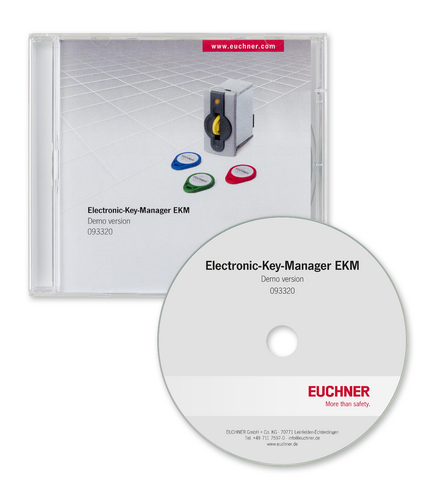 Description
Product description
The Electronic-Key-Manager (EKM) is a software package for writing and managing the Electronic-Keys on the PC. All Electronic-Keys and their contents are managed in a central database. The freely programmable memory on the Electronic-Key can be allocated to the specific database fields. The database fields and the input mask for entering the data can be configured as required. Write and read rights can be granted through user management. EKM can also be integrated into an existing EKS environment.
System requirements
Operating system: Microsoft Windows® XP / Server 2003 / Server 2008 (32-bit and 64-bit) / Windows® 7 (32-bit and 64-bit) / Server 2008 R2 / Windows® 10 (32-bit and 64-bit) / Windows® Server 2012 (64-bit) / Windows® Server 2012 R2 (64-bit) / Windows® Server 2016 (64-bit)
Processor: from Pentium 2
Available memory: min. 64 MB
Network: network card and TCP/IP protocol installed
Hard disk space for the installation: approx. 20 MB
Interfaces: serial or USB (depending on version of the Electronic-Key adapter)
Technical data
Miscellaneous
| | |
| --- | --- |
| Description | Electronic-Key-Manager software, single-user version |
Downloads
Complete package
Download all important documents with a single click.
Content:
The operating instructions and any additions to the operating instructions or brief instructions
Any data sheets to supplement the operating instructions
The declaration of conformity
Single Documents
Other Documents
Ordering data
| | |
| --- | --- |
| Ordernumber | 098578 |
| Item designation | ANWPG ELECTRONIC KEY MANAGER EINZEL |
| Gross weight | 0,957kg |
| Customs tariff number | 85389099 |
| ECLASS | 27-39-90-90 Objekt-, Zutrittsüberwachungssystem (Sonstige, nicht spezifiziert) |