ActiveX® module - serial communication
Protocol driver software for integrating the EKS Electronic-Key adapters with serial or USB interface into a PC application in Windows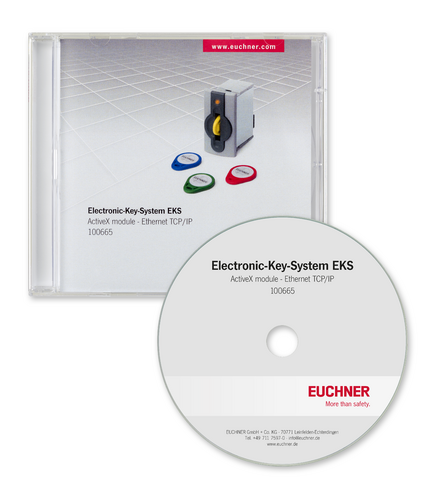 Description
Product description
Integrating the EKS Electronic-Key adapters with serial or USB interface into a PC application in Microsoft Windows is supported by an optionally available ActiveX module (can be used if user programs support ActiveX, e.g. Microsoft Visual Basic). EKS can thus be used in conjunction with process visualization software, for example. Data communication is based on the transfer protocol 3964R. The ActiveX module is used here as a protocol driver. For this purpose, the ActiveX module must be installed and integrated into the related programming environment.
System requirements
Operating system: Microsoft Windows® XP / Server 2003 / Server 2008 32-bit / Server 2008 64-bit / Windows® 7 32-bit / 64-bit / Server 2008 R2
Interfaces: serial or USB with EKS USB drivers installed (depending on version of the Electronic-Key adapter)
Technical data
Miscellaneous
| | |
| --- | --- |
| Description | Software, ActiveX® module for Windows® |
Downloads
Complete package
Download all important documents with a single click.
Content:
The operating instructions and any additions to the operating instructions or brief instructions
Any data sheets to supplement the operating instructions
The declaration of conformity
Single Documents
Other Documents
Ordering data
| | |
| --- | --- |
| Ordernumber | 098708 |
| Item designation | ANWPG EKS ACTIVEX-MODULECD-ROM |
| Gross weight | 0,2kg |
| Customs tariff number | 85389099 |
| ECLASS | 27-39-90-90 Objekt-, Zutrittsüberwachungssystem (Sonstige, nicht spezifiziert) |