Locking sets MGB2-L.H-MLI
Flexible connection to any bus module MBM
Remote or direct mounting of bus module MBM
Modular design with submodules
Submodule replacement in operation
For doors hinged on the right as well as doors hinged on the left
Integrated alignment aid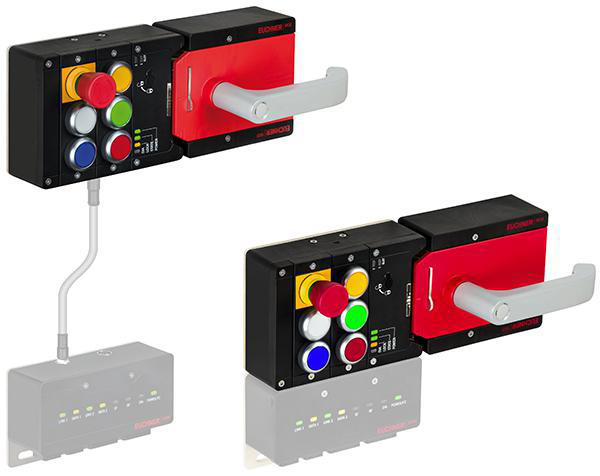 MGB2 Modular – the next generation MGB
The new MGB2 represents the logical further development of the globally successful Multifunctional Gate Box MGB. A revised design, new and extended functions, as well as a modular layout offer maximum flexibility and cost-effectiveness. The MGB2 is more than just pure safety door protection. It makes it possible to integrate into one device all the relevant functions related to the safety door. The MGB2 is suitable for both hinged and sliding doors.
Straightforward connection design – standard cables suffice
In the
Modular
version, the MGB2 is connected via a bus module MBM. This module can either be connected directly to the MGB2 or, if space is tight, it can be mounted remotely. If the bus module is mounted remotely, as many as six MGB2
Modular
can be connected to one MBM. The connection is made using standard M12 cables. You can identify
Modular
devices with compatible connections based on the letters MLI in the item designation. They have a corresponding M12 mating connector (MLI module plug connector). Thanks to the modular design, the MGB2
Modular
can be variably equipped with different functions. The MGB2
Modular
offers space for two submodules, each with up to three different control elements.
Proven technology enriched with innovations
Like its successful predecessor model, the MGB2 is equipped with a very robust, industrial housing and has an integrated metal door stop, as well as an integrated mounting plate. It can be mounted on doors hinged on the left and right, as well as on sliding doors. Changeover is performed during mounting. The locking force of 2,000 N effectively prevents unintentional opening of the guard. The MGB2
Modular
meets the requirements of all relevant standards, e.g. EN ISO 13849‑1 and EN ISO 14119. All screws are equipped with the same Torx-T10 drive so that a single tool is sufficient. These and many other minor improvements in the housing design ease mounting and the connection of the individual system components.
Guard locking types
L1 closed-circuit current principle
Guard locking by spring force.
Release by applying voltage to the guard locking solenoid.
L2 open-circuit current principle
Guard locking by solenoid force.
Activation of guard locking by applying voltage to the guard locking solenoid.
Flexible use as interlocking or guard locking
By means of the corresponding evaluation of the safe device data by the control system, use can be either as interlocking or guard locking (with or without monitoring).
Lens set
The color of the pushbuttons can be selected using the lens set 120344 (5 colors) included.
Products
(18)
No results found