Submodules MSM
Controls and indicators for installation in locking and extension modules
Installation rotated by 180° possible
incl. lens set for pushbuttons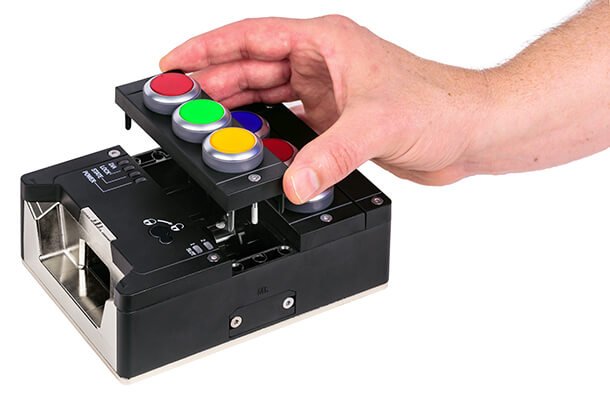 Submodules MSM – a new concept for maximum variety
A large selection of different submodules MSM make the MGB2 into a small control system. Different submodules are available to adapt the MGB2 or the MCM optimally to the control functions necessary for a machine or installation, Whether for labeling or with pushbuttons, an emergency stop or a connection for an enabling switch.
Color cover set
The color of the pushbuttons can be selected using the lens set 120344 included (5 colors).
Illuminated emergency stop
Emergency stop with illumination that can be controlled as required.
Emergency stop with protective collar
A protective collar protects the emergency stop against unintentional operation.
Labeling fields
Submodules with labeling fields have pre-formed recesses. The adhesive labels enclosed (standard size 12.5 x 27 mm) can be affixed in these recesses.
Key-operated rotary switch
Form L, 90° angle of rotation with 2 positions. The key latches in both positions and can be removed in both positions. Devices with key-operated rotary switch form L have degree of protection IP54.
Form V, 40° angle of rotation with 2 positions. The key latches in position 0 and can be removed in position 0.
Connection for enabling switch
The submodules have an M12 plug connector for the direct connection of an enabling switch (e.g. ZSA, order no. 110560).
Products
(25)
No results found