Safety switch CTP-AP
Your advantages
Safety switch with guard locking and safe guard lock monitoring.
Integrated CES-AP electronics.
A special evaluation unit is not required.
Safety category 4 and PL e according to EN ISO 13849-1.
Mounting compatible with existing safety switches.
The safety switch CTP combines the proven principle of operation of electromechanical safety switches with guard locking and modern transponder-coded safety engineering. Thanks to the transponder technology, even a single CTP achieves category 4/PL e according to EN ISO 13849-1, without additional fault exclusion, and meets all the requirements of EN ISO 14119. It is ideally suited to applications in which a high Performance Level and a locking force of up to 3,900 N are required.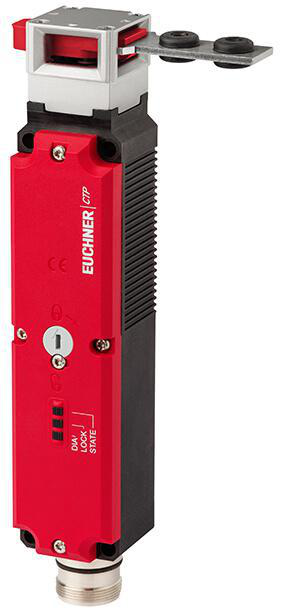 Versatile use
The CTP reliably secures safety doors and flaps on machines and installations. Thanks to the integrated guard locking and guard lock monitoring, it can be used both for process protection and the protection of personnel. Its compact design permits space-saving mounting on the guard. With a guard locking force of 3,900 N the CTP effectively prevents the opening of safety doors. The very robust plastic housing with metal head as well as the high degree of protection IP67/IP69/IP69K make the CTP the all-rounder for almost every industrial use. The CTP is suitable even for harsh, dirty environments.

Mounting and principle of operation
The CTP consists of two components, a safety switch and a separate actuator. The safety switch is mounted on the fixed part of the guard, the actuator on the movable part.
The CTP can be approached from four directions. For improved insertion of the actuator, the head is equipped with an integrated funnel. This feature is particularly advantageous on unstable door designs as well as if the door is incorrectly adjusted.
When the guard is closed, the actuator moves into the head on the safety switch. The safety outputs are switched on if the integrated transponder chip in the actuator is detected and the guard locking activated. Thanks to the integrated prevention of inadvertent locking position (faulty closure protection), unintentional activation of the safety outputs is prevented if the actuator is not completely inserted into the head.

System family AP
In the AP version, the CTP is suitable for use as an individual device for connection to all common safety evaluation units and safety control systems.
Product finder
Guard locking principle

Escape release

ATEX version

Extended

Connection

Guard locking

Products
(30)
No results found