Non-contact safety switch CES-A-C5...
Safety switch with integrated evaluation electronics
Possible to switch pulsed signals
2 safety outputs (semiconductor outputs)
Category 3/PL e according to EN ISO 13849-1
Unicode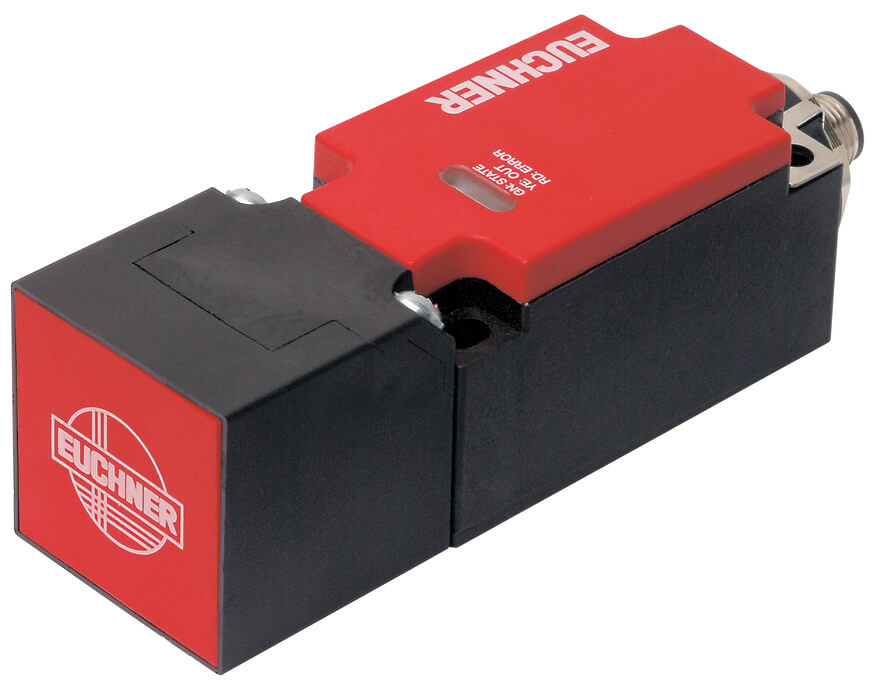 Ismertetés
Approach direction
Can be adjusted in 90° steps
Unicode evaluation
Each actuator is highly coded (unicode). The switch detects only taught-in actuators. Additional actuators can be taught-in.
Category according to EN ISO 13849-1
Due to two redundantly designed semiconductor outputs (safety outputs) with internal monitoring suitable for:
Category 3/PL e according to EN ISO 13849-1
LED indicator
| | |
| --- | --- |
| STATE | Status LED |
| OUT/ERROR | Safety outputs status / diagnostics LED (combined) |
Additional connection
| | |
| --- | --- |
| OUT | Monitoring output (semiconductor) |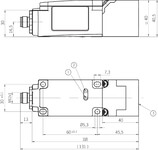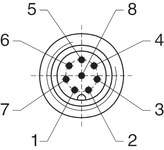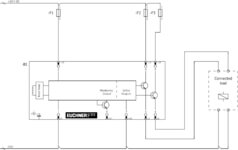 Dimension drawing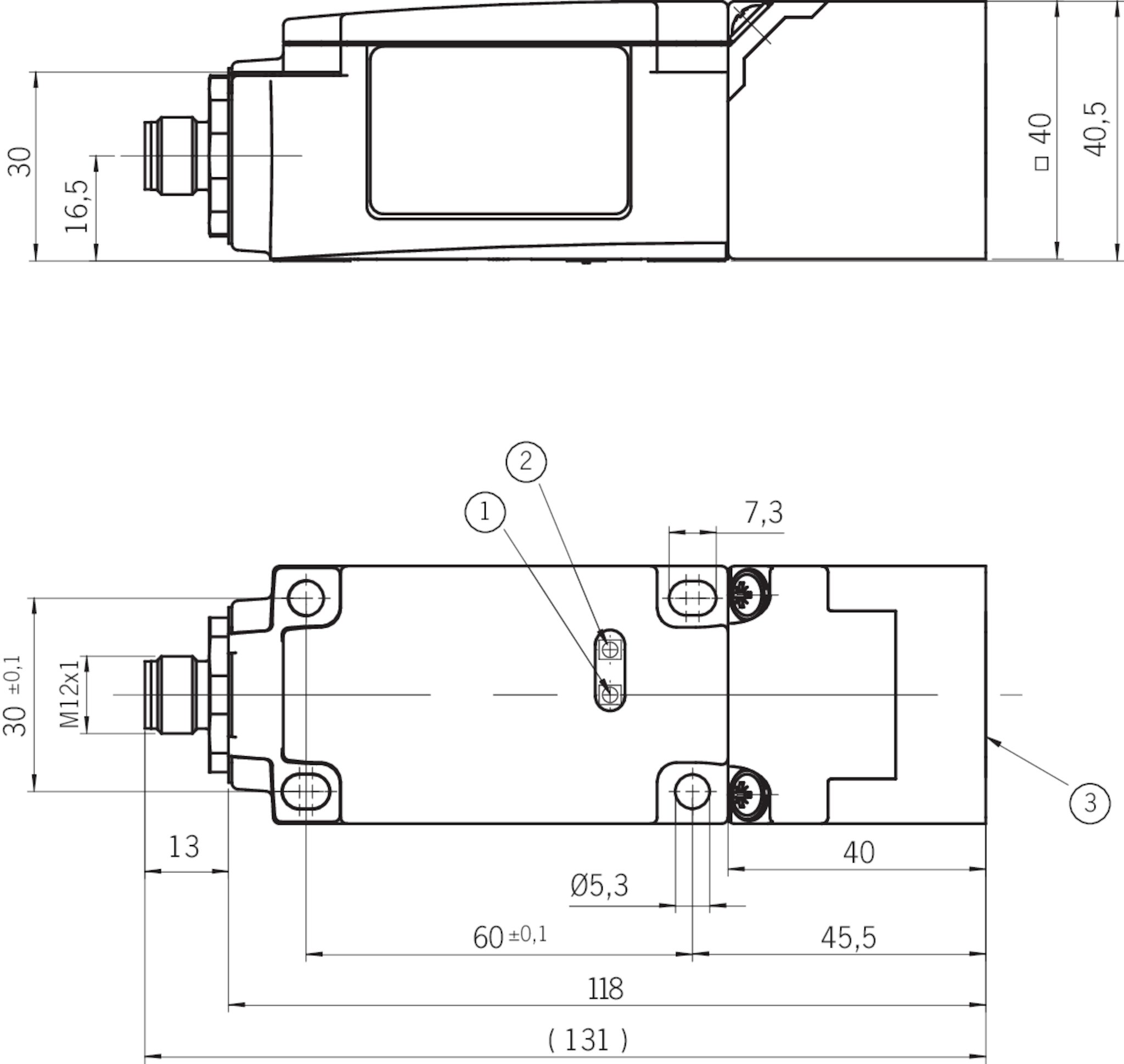 | | |
| --- | --- |
| 1 | LED status indication red/yellow |
| 2 | LED status indication green |
| 3 | Active face |
(View of connection side on the safety switch)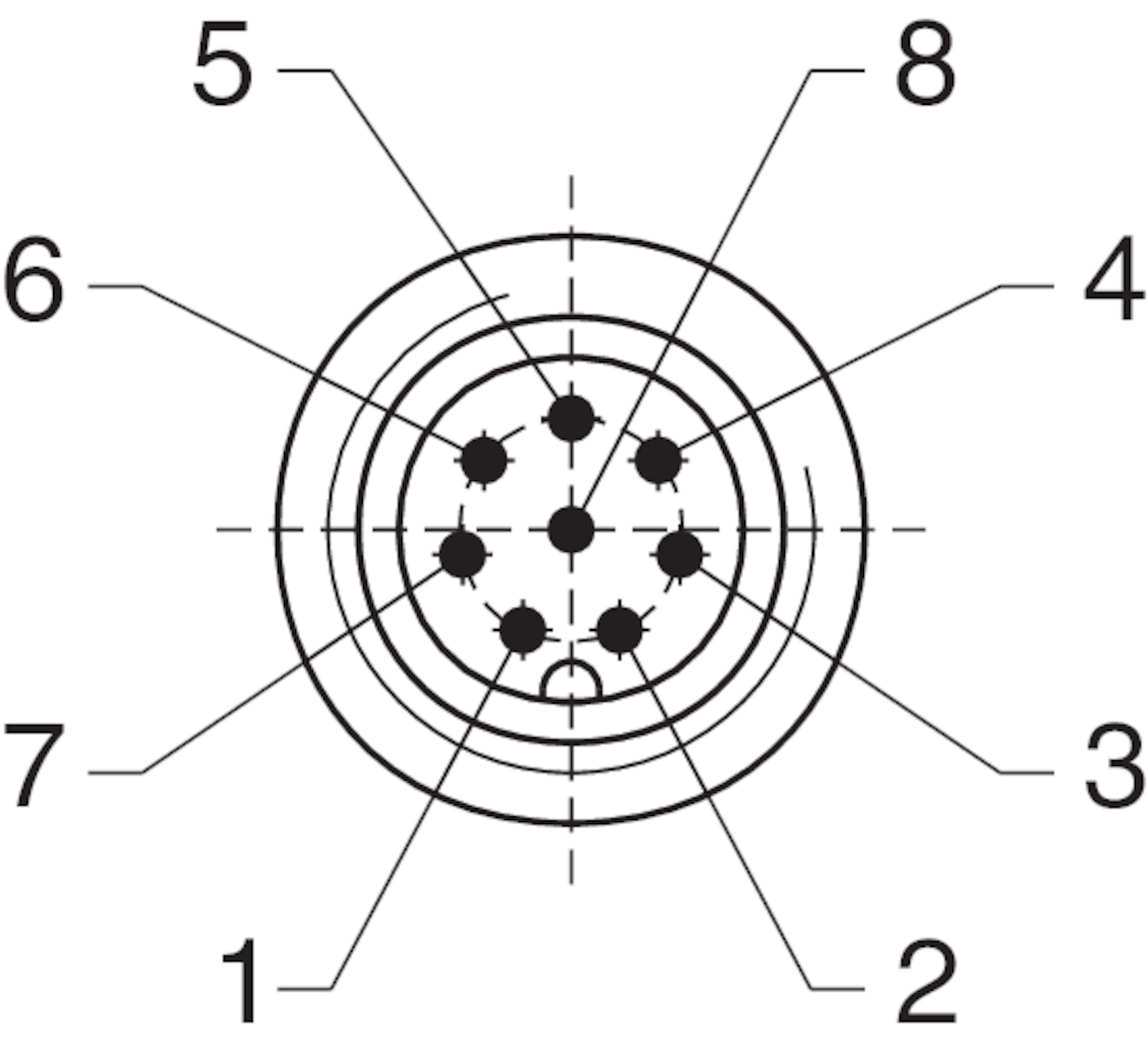 Wiring diagram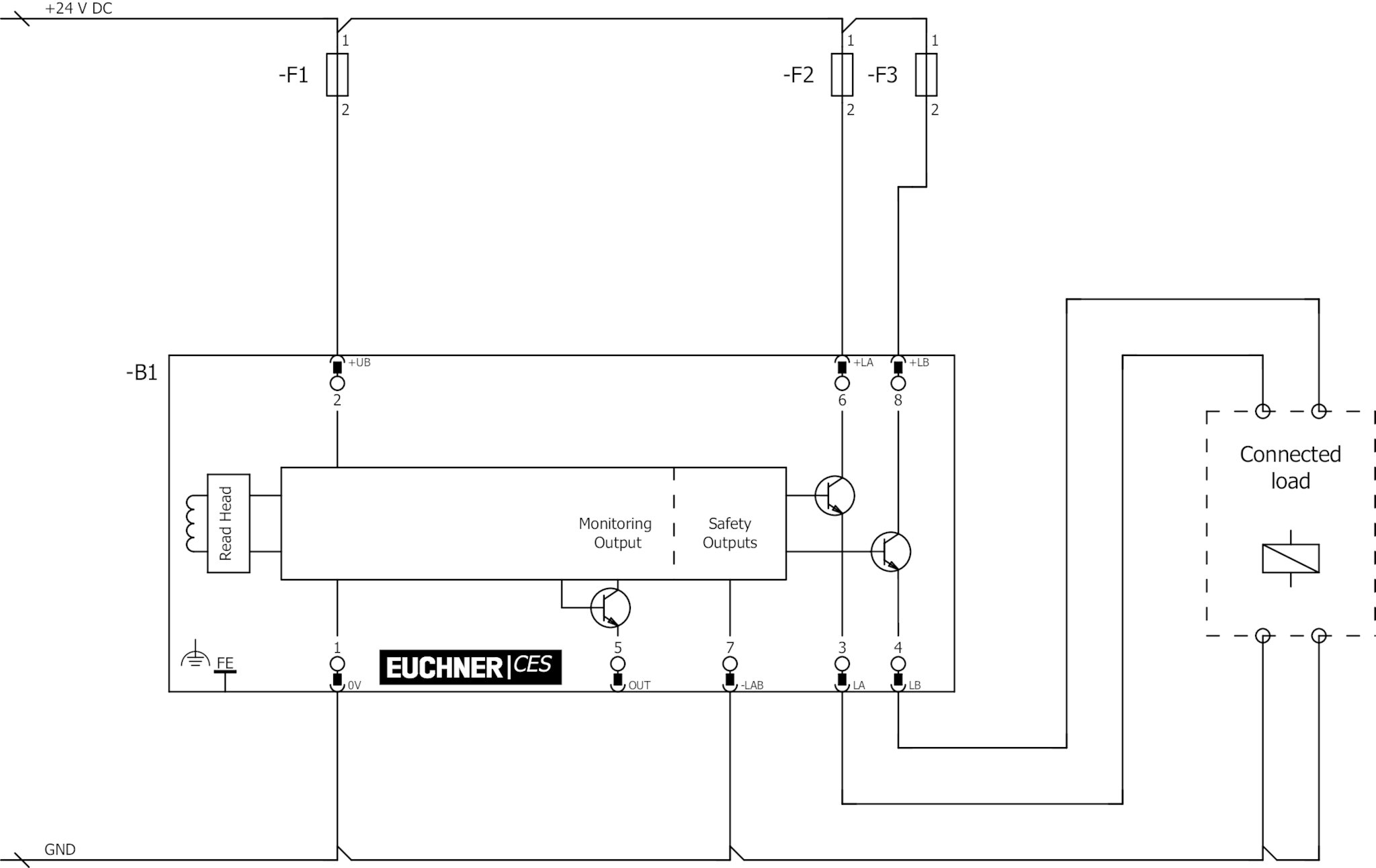 Műszaki adatok
Engedélyezések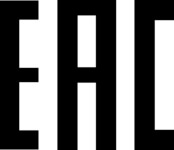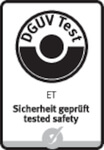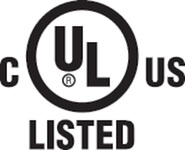 Mechanikai értékek és környezet
Dimensions
According to EN 60947-5-2: (LxWxH) 131x40x40
Housing material
Housing
Plastic, PBT
Weight
Net
0,4 kg
Ambient temperature
At UB = 24 V DC
-20 ... 55 °C
Degree of protection
IP65/IP67
Mounting distance
Between 2 switches or 2 actuators
min.80 mm
Installation orientation
Any
Tightening torque
Screws fastening bracket read head
max.0,6 Nm
Fixing screws housing
max.1 Nm
Ready delay
max.3 s

(After the operating voltage is switched on, the semiconductor outputs are switched off and the monitoring outputs are set LOW during the ready delay.)

Reaction time
After change in the actuation status
max.180 ms

(Corresponds to the risk time according to EN 60947-5-3. This is the maximum switch-off delay for the safety outputs following removal of the actuator.)

Switching frequency
max.1 Hz
Dwell time
min.0,5 s

(The dwell time of an actuator inside and outside the operating distance must be at least 0.5 s to ensure reliable detection of internal faults in the evaluation unit (self-monitoring).)

Connection
M12 plug connector, 8-pin, screen can be applied
Elektromos csatlakoztatási értékek
Operating voltage DC

18 ... 24 ... 27 V DC

Regulated, residual ripple < 5 %
Current consumption
80 mA
Fusing
(External) operating voltage
0,25 ... 8 A
Rated insulation voltage Ui
300 V

(Tested by employers' liability insurance association up to 75 V.)

Rated impulse withstand voltage Uimp
1,5 kV
EMC protection requirements
In acc. with EN 60947-5-3
Degree of contamination (external, according to EN 60947-1)
3
Safety outputs LA / LB
Type of output
Semiconductor outputs, p-switching, short circuit-proof, electrically decoupled

(To ensure safety, both safety outputs (LA and LB) must be evaluated.)

Output voltage
HIGH U(LB)

U(+LB) - 1,5 ... U(+LB) V DC

LOW U(LA) / U(LB)
0 ... 1 V DC
HIGH U(LA)

U(+LA) - 1,5 ... U(+LA) V DC

Output current
per safety output
1 ... 400 mA
Fusing
External, safety circuit U(+LA) / U(+LB)
0.4 A medium slow-blow
Utilization category acc. to EN 60947-5-2
DC-13
24V 400mA
Switching load
According to UL
max. DC 24 V, class 2
Rated conditional short-circuit current
max.100 A
Discrepancy time
(Between the operating points of both safety outputs)
max.120 ms
Power supply output load
U(+LA) / U(+LB)
24 V DC 18 ... 27 V DC
Monitoring output OUT
Type of output
Semiconductor output, p-switching, short circuit-proof
Output voltage
0,8 x UB ... UB V DC
Output current
max.20 mA
STATE LED
LED indicator
Status LED
LED OUT / ERROR
LED indicator
Safety outputs status / diagnostics LED (combined)
Működési tartomány
| | |
| --- | --- |
| Repeat accuracy R | |
| According to EN 60947-5-2 | max.10 % |
Egyebek
| | |
| --- | --- |
| For the approval acc. to UL the following applies | Operation only with UL class 2 power supply, or equivalent measures |
Megbízhatósági értékek az EN ISO 13849-1 szerint
| | |
| --- | --- |
| | Monitoring of the safety guard position |
| Category | 3 |
| Performance Level | PL e |
| PFHD | 4.29 x 10-8 |
| Diagnostic Coverage (DC) | 90 % |
| Mission time | 20 y |
---
In combination with Actuator CES-A-BPA
Actuating range
Distance s, actuator
Minimum distance for side approach direction
min.6 mm
Operating distance
With center offset m=0
22 mm

(Applies on surface mounting on aluminum; in a non-metallic environment the typical operating distance increases to 30 mm.)

Assured release distance Sar
max.58 mm
Assured operating distance Sao
With center offset m=0
min.15 mm

(Applies for surface mounting on aluminum)

Switching hysteresis
min.1 mm

(Applies for surface mounting on aluminum)
---
In combination with Actuator CES-A-BBA, CES-A-BCA
Actuating range
Distance s, actuator
Minimum distance for side approach direction
min.4 mm
Operating distance
With center offset m=0
20 mm

(The values apply for surface installation of the actuator.)

Assured release distance Sar
max.40 mm
Assured operating distance Sao
With center offset m=0
min.18 mm

(The values apply for surface installation of the actuator.)

Switching hysteresis
min.2 mm

(The values apply for surface installation of the actuator.)
---
In combination with Actuator CES-A-BDA-20
Actuating range
Distance s, actuator
Minimum distance for side approach direction

min.5 mm

Operating distance
With center offset m=0

21 mm

(In non-metallic environment)

Assured release distance Sar

max.41 mm

Assured operating distance Sao
With center offset m=0

min.19 mm

(In non-metallic environment)

Switching hysteresis

min.2 mm

(In non-metallic environment)